'LOOK FOR YOURSELF' SUMMER GATHERING
A Residential Workshop to Explore The Headless Way in Everyday Life and How to Share It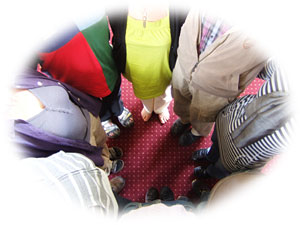 The 2020 Summer Gathering has had to be cancelled due to the COVID 19 pandemic.

2021 dates:
7th April to 11th April Wednesday to Sunday AND
20th July to 24th July, TUESDAY to SATURDAY
FOUR DAYS IN SARUM COLLEGE, SALISBURY, UK
Ideal location within the Close, right next to the Cathedral
More people than ever are feeling inspired by Douglas Harding and the experiments he discovered which show us so concretely that our real nature is not what we see in the mirror. Being with people who are practising the same Way and exploring the meaning of these experiments together helps us deepen our focus on this vision, while sharing our experience with close friends, even if not with a wider audience, is the best way of keeping it alive as an ever present resource for living in the everyday world.
So we invite you to come and celebrate this profound yet simple and accessible insight with us...

RICHARD LANG and JUDY BRUCE and other friends —
including you.
For more information, please contact Judy Bruce.