Journey to the Centre of the Youniverse
Douglas Harding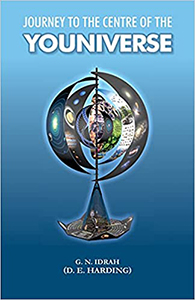 Amazon UK
"I'm a traveller from a very long way off. It's not that I'm lost. But it's a long story...
"And then, suddenly, from the side pocket of his long overcoat, he produced that fabulous thing. It came out small, a mere bud which immediately opened out in his hand like a flower. He set it up on the table between us. It was a flower with curious and gorgeous petals, an onion with bright painted skins and a crystal core, a ship-a-sailing with all eight spinnakers bellying in the wind. He called it his Deep Map, in contrast to the at maps people use, and said that without it we wouldn't follow his adventures at all. He explained that it showed clearly where he came from and was going to, and the scenes of his adventures with the terrible Wormwolf. It revealed a living Space-dweller the regular astronomers hadn't discovered yet, and gave glimpses into the lands of the Gnomes and the Goblins and the Elves. And in fact it was a record of his great Space Probe, his journey to the very Centre of the world. He called this strange chart of his Youniverse, spelt Y o u n i v e r s e ; and he said it was his Magic Tool Chest, or Wizard's Bag of Tricks. Armed with this device, why anyone could ..."
And so begins a story that takes you all the way to the centre of the Youniverse. It is a story that transforms you in the process and reveals the greatest of all treasures, hidden in plain sight.
This is a dramatic story, a wild dream, at times a nightmare, at times a hilarious and subversive satire. It involves a quest, a monster and a shape-shifting hero, strange characters and dangerous goings-on, and an end that is a beginning––the tightest corner of Hell opening out into the widest smile of Heaven, the darkest of nights turning into the early morning freshness of the world. Are you prepared to wrestle with the angel till dawn? Only those that go the whole way will find the Whole.
This book is available in paperback, hardback, Kindle and audiobook via Amazon.