Everyday Seeing
Douglas Harding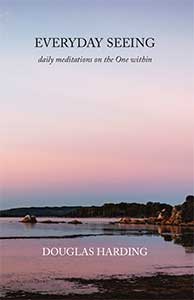 Available on Amazon:
It is easy to see Who you are. Simply be aware of the place you are looking out of: this faceless space, this single eye, this wider than wide openness that embraces and is the world, this wondrous source from which all things flow.
But how do we stay awake to this blessing at our centre?
When you love someone, naturally you want to spend time with them. The more time you spend with them, the more adorable they are. And the more you want to be with them.
It's the same with the One within us, 'the soul of our soul'.
These daily meditations are invitations to spend more time with that Beauty, that Wisdom, that Love, that Joy—with the One that is wholly yourself yet wholly other.