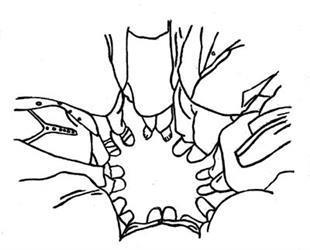 Reflection 35

Welcome!


Wide Open To You
Are we
face-to-face
, in symmetrical relationship, object confronting object, each shutting out the other? Quite the contrary. Here where I am is no face, no speck of anything to ward you off with, to resist your invasion. Whether I like it or not, I'm so wide open to you that your face is mine and I have no other.
Nor is this a superficial, casual, insignificant coming together. It is an intimacy which is the paradigm of all intimacy, infinitely deep and total, and immensely satisfying – once I have the humility and the courage to notice it. The awareness is crucial. I am fully conscious of the perfect way you give me your face, of the perfect way I take it. The way I'm shaped and coloured by that fascinating terrain amazes and delights me. Without fuss or comment or conditions you supply my lack, and I have no way of refusing. I can only pretend to refuse you entry. (
Look For Yourself
, Douglas Harding)
Comments
Thank you! These are the kinds of words I don't hear from those around me who have also been conditioned from day one to identify with their face/image. It is so good to have an affirmation of the thoughts that arise directly out of love/spaciousness. Warm regards, Tamar.
Just wanted to touch base with you and to thank you once more for these timely injections of sanity and peace. Sadly, my 88 year old father with whom my husband and I have lived for just short of five years, died - suddenly and peacefully - last Wednesday. I am very glad I found your website, and Douglas Harding's work, when I did. An enormous source of strength and comfort. I look forward as always to the next reflection :-) With love H.
Send your comments to Richard