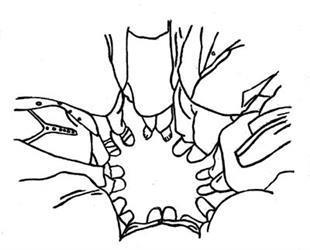 Reflection 129

Welcome!


Endlessly Fascinating
You would think (wouldn't you?) and your sturdy common sense would be sure of it, that this No-thing that you are where you are (by definition and in experience naked of all interest, less intriguing than an interminable viewing of a frameless picture of snow against a snow-white background) – that this yawning gap would prove to be the Yawn of all time, the ultimate agony of boredom. You would think, surely, that this Stroke which has hit you with Force One on our Beaufort Scale (the patient fully conscious but with no hope of parts to move, let alone hope of moving them) would turn out to be the most pitiable and excruciating boredom imaginable. The pit of the pit of Hell: unimaginably, fiendishly dull. So you would think.
Well, look and see. Open your Eye now to What you are, to this Eye itself. Are you bored to tears with this, right now? Does this Eye ever shed a tear for any reason, let alone tedium? How could you ever have too much of a thing that is No-thing? How could you ever get fed up with this No-object, which off-handedly pops up with universes? Try it now for sheer breath-taking interest, dear Reader. Is it not excellent value – this World's End, this Neckline of yours which sports the whole space-time world above it but no space and no time and no world – absolutely damn all – below it? Only give it half a chance, and I guarantee that you will find that this No-thing is the only thing you never get sick to the back teeth of, that never loses its charm, that is always brand new, that you never, never get used to. For my part, I can't go on listening to my favourite Mozart arias for as little as an hour or two before I cease to hear them, or go on gazing at my favourite Chagall or Miro for as little as five minutes before I cease to register any picture at all. And even if I could go on longer, I would be bound to tire of the thing in the end, precisely because it's a thing among things and nothing if not limited by them in a million ways. 'One gets satisfaction from the unlimited, from the limited never,' says an ancient Indian scripture. How true. Everything is the plaything of stresses internal and external, is stress-built and stress-maintained and stress-destroyed, has boundaries marked out by stress, grinds stressfully to a halt, lets you down stressfully in the end. Only this stress-free unspeakable and unprintable that YOU ARE, that YOU ARE COMING FROM – only This never stales, never tarnishes, never wears thin, never loses its flair, its oomph. A name I like to give it, borrowed from Goethe, is Mother Night. Not because it helps me to get to grips with it, but because it tells me I can never do so. (
Douglas Harding.
Head Off Stress.
)
Please send your comments to Richard