Welcome!
This website celebrates a direct way of seeing who you really are
– The Headles
s Way.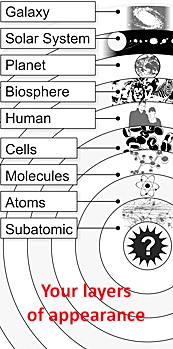 Consider this – what you are depends on the range of the observer. At several feet you appear human. At closer ranges you are cells, molecules, particles… At greater ranges you are a city perhaps, a country, the planet, the star, the galaxy…
But what are you at zero distance? In other words, what are you really?
Others cannot tell you because they always remain distant from you. But you are at your own centre so you are well-placed to look and see what you are there. But how can you do that?
The 'experiments' on this website show you how to see your own central reality. If you haven't done the Pointing Experiment, for example, then delay no longer!
Once you see what you are at centre – once you see who you really are – then the idea is to get into the habit of living consciously from this boundless, timeless Space. There is lots on this website that will inspire and encourage you to do this. Explore! And if you want to meet up with others who have done the experiments and are exploring living from their Single Eye, check out the Online Meetings and Workshops. You will also find lots to encourage you in our Online Shop and on our YouTube channel.