The Youniverse Explorer Model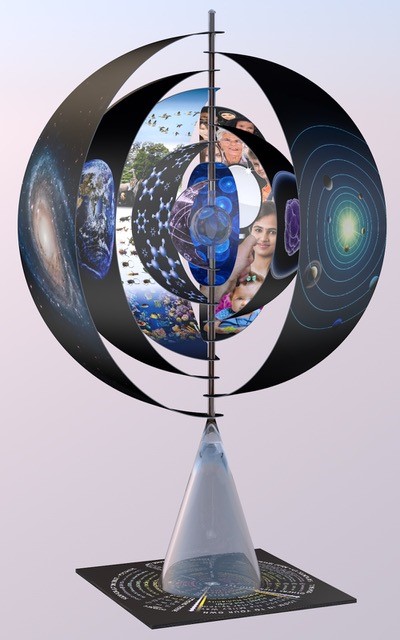 During the 1970s Douglas Harding designed the Youniverse Explorer model. We have now reproduced this model with modern images. Not only is it stunningly beautiful, it introduces us to a profoundly new way of seeing ourselves. The image of our planet from the Moon is rightly appreciated as having had a profound impact on our sense of self. This model is in a way more powerful for it includes that image – that lunar 'self-image' – but also includes every other layer, from particles to galaxy. Not only this – it also shows how the external view of ourselves at every level – the view in – is complemented by the many-levelled view out from the Centre.

The original model came with an hour-long talk on CD by Douglas Harding which he recorded for his original model – Douglas guides you through the model, bringing out its meaning and importance. You can listen to this tlak via the link below.
Talk on original model by Douglas Harding
The model stands 37cm tall, which is about 14.5 inches. It comes with assembly instructions for putting your model together.
Short film about the Youniverse Explorer.
Orders for the model are temporarily suspended due to COVID-19 movement restrictions.